Today I very honoured to welcome you all to my turn on hosting the Tips & Tricks Tuesday. If it is your first time around here, a very warm hello from me and all my followers... This fantastic series is hosted by Erin at
Sew at Home Mummy
, and it is full of great tips for us crafters!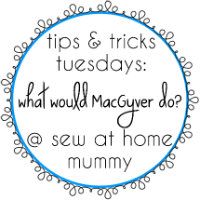 So I have been giving quite a bit of thought about what to post, I like sewing, knitting, crochet and embroidery... so I wasn't sure which way to go... but there is one common thing in all the crafts I make, and it is that I don't like to waste... I work with such beautiful fabric, yarn and threads... that I don't like seeing much of them in the bin...
I have been working lately on a herringbone quilt top and cutting biased edges on the rectangular blocks means lots and lots of little triangles were lying around ready for the bin...and all the time while sewing I kept asking myself what to do with them... I really did not want to let them go...
So I came up with the Scrappy Piping idea for the matching cushions...
What do you need?
Tiny little scraps of all sort, it can be from one project (like mine) or from many different projects for a multicolour look. In any shape and size they will all work great (but I used the tiny little ones that normally go to the bin). And you will also need piping cord and a project that could use some piping like bags, pillow cases, etc.
Step 1
- Start sewing those little scraps in pairs, right sides facing together. You are looking for their longer side (my triangles had a side that measured 3 and a bit inches, so I went for that one as the seam). You may want to try to get a smaller seam allowance than normal, to maximise the use of the fabric. Chain sewing is the ideal method to get them done as quickly as possible. Press seams open.
Step 2
- Now sew together (again chain sewing) those pieces in pairs, and keep going until you get stripes of pieced fabric smaller than your cutting mat and ruler but the longer possible. I did mine 20 inches long (for the purpose of this tutorial and easy pictures I am just showing a few scraps together).
Step 3
- I cut my piping stips at 1.5 inches, so I squared up my stripes to 3 inches and then cut them in half. If you didn't manage to make a 3 inch wide strip with your scraps then just cut it to 1.5 inches.
Join those strips together to make a really long piping strip. I managed to get 6 meters (19.6 foot) long.
To prepare it for the actual piping I suggest to roll it up like this.
Step 4
- Now you can just use your normal method for preparing the piping, just be careful that you are working with lots of seams and there may be some fabric bulk in the process, so suggest going a bit slower than normal. I use my zip foot and go to the sewing machine with the cord and the fabric roll. And as I sew the fabric around the cord as I go (I do not use pins, it just takes to much time).
And voila, you have the piping cord ready to use in your next project. I will be showing you all the pillow covers I made for my bedroom a little later this week, but here is a sneak peak:
Do you have any tips and tricks or tutorial that you would like to share?
Please link your posts below, new or old posts are welcome just as long as it has some handy information to share around! And don't forget to visit around and have fun!