Today I am very happy to present the
"In Love"
pincushion tutorial over at Riley Blake - Cutting Corners blog (click
here
), as part of the Pincushion Club series.
In order to celebrate my first ever feature, I decided to make the matching needle case to go with the pincushion... and voilà the finished set. I used fabrics from
The sweetest thing
collection from Riley Blake (you can see the whole collection
here
)
this
tutorial from Sew She Sews. However I made quite a bit of redesigning to come up with my needle case. You can check out my board on
Pinterest
for more links to amazing needle cases.
The needle case is very firm, as it has a few layers of fabric/batting. It has a big pocket all along the interior very handy for scissors and bigger tools, and a small pocket on one side. It has plenty of space for all the needles.

After I finished I gave it a try while I was making a few embroidery projects I have been working on lately, I ended up using the small pocket for my embroidery silks, and catching the threads I was working on between the two layers of felt. The back pocket was used for storing the embroidery pieces that I have finished.


I have made the pattern for the needle case available
here
I would love to hear your thoughts on the projects. And if you decide to make it, please do send pictures of your end results!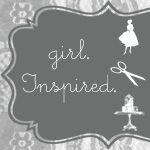 Also linking up to Girl Inspired